Kawasaki Sports Bikes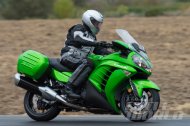 Sometimes, a little news can be almost as useful as big news. That's Kawasaki's thinking, at least, regarding the 2015 Concours 14. The "Connie" motors into its eighth season endowed with only a few relatively minor upgrades. This means it has not been substantially changed since an update in 2010. Overall, in fact, the basic Concours remains very much the same machine it was when launched in 2008.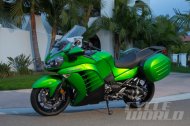 So, while competing brands during those years have been cranking out ever more sophisticated sport-tourers—with features such as electronically adjustable suspension, multi-level power modes, GPS receivers, AM/FM/MP3/iPod sound systems, heated seats and more—the Concours has pretty much remained status quo, not even offering cruise control.
A fair criticism, says Kawasaki's management, but all those features cost money, which has sent the asking prices for those more lavishly equipped sport-tourers soaring skyward. The Concours, meanwhile, is not only the least expensive of the big S-T bikes, the 2015 version goes for just $15, 499, $700 less than last year's model. That, the company feels, offers riders the opportunity to own a big, very fast and very capable sport-tourer for considerable savings—in some cases, many thousands over some of the costlier models.
Given that most MSRPs either remain the same or increase every year, a $700 price reduction is a real surprise, especially considering that the 2015 Connie incorporates several improvements. These include a six percent lower first gear intended to make dead-stop getaways easier, particularly on steep uphills with a passenger aboard. The rear suspension has been marginally stiffened to better cope with two-up, full-saddlebag loads, and the linked braking system uses a new ABS module that reduces the amount of front-brake bite when the rear brake is applied. The seat was reshaped and covered with an anti-slip material; and although the windshield is no larger than before, it now includes a three-position (two open, one closed), manually adjustable vent claimed to reduce buffeting around the rider's head.
As I learned when riding the new bike during Kawasaki's recent 2015 Concours 14 press introduction, that vent indeed works as advertised. With the electrically adjustable windscreen in its highest setting and the vent in either of its open positions, the turbulence and noise around my helmet was dramatically reduced, making the cockpit a much more pleasant living space at higher road speeds. Plus, the vent also reduced the amount of water splattered on my faceshield when riding in the rain.
You might also like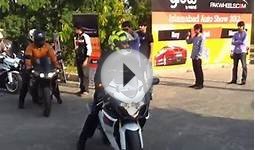 Sports Bike Kawasaki ZZR 1400 Hayabusa GIXXER YAMAHA ...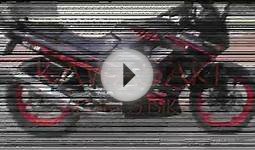 KAWASAKI GPX SPORTS BIKE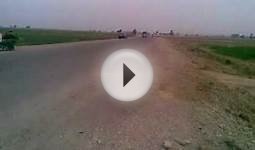 Sports Bike - Kawasaki ( Biker Boy )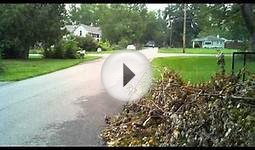 1984 KAWASAKI GPZ550 ZX550 PRE-NINJA SPORTS BIKE
Switch light turn signal dirt bike honda ktm suzuki kawasaki yamaha project dual sport motorcycle universal exc excr 520 450 530 500 250 wr wrf xr 600 650 dr drz hron 7/8" handlebar hi/lo husqvarna left mx dirt bike conversion
Automotive Parts and Accessories (WB Industry)
High quality aftermarket left side control switch for your motorcycle.
Heavy duty aluminum housing for perfect durability, not a cheap plastic.
It has turn signal switch, horns switch and hi/lo beam switch
Small size is perfect for dual sport applications or any street motorcycle.
Will fit all 7/8 handlebars
SUPERIOR TRAVEL DUST MOTORCYCLE SPORT BIKE COVER COVERS : FITS UP TO LENGTH 90" - ALL SPORT BIKES AND SMALL TO MEDIUM CRUISER BIKES - YAMAHA, HONDA, SUZUKI, KAWASAKI, DUCATI, BMW, APRILIA, TRIUMPH, BUELL, CAFE RACER SPORT MOTORCROSS MOTORCYCLE COVERS
Automotive Parts and Accessories (KapscoMoto)
Lightweight Travel Cover Easy to Pack and Conceal
Size of Cover: 90 L X 39 W X 49 H
Made to fit all Sport Bikes, Scooters, Cafe Racers, and Small Cruiser Bikes
Color: Black
FREE STORAGE BAG INCLUDED!
Universal Round Bar End Convex Mirrors For Inceased Vision For 7/8" Handle Bars Fits Most Harley Davidsons, Suzuki, Honda, Kawasaki Cruisers, Touring Bikes, Sport Bike, Cafe Racers, Electric Scooters side rear view mirrors motorcycle


Automotive Parts and Accessories (KapscoMoto)




High Quality 6061 Billet Aluminum Light Weight Bar End Mirrors
Unique Look and Great Visibility !
Crafted from Aluminum with Vibration Resistant Housing
Color: Black
Comes with 7/8 Bar End Insert Bushing or Directly Clamp-on!

Ediors One Pair New JDM Diamond Anodized Aluminum Gel Rubber 7/8" Handle Bar End Grip Cap Slider For Suzuki Yamaha Honda Kawasaki Scooter Sport Street Dirt Bike ATV Blue


Automotive Parts and Accessories (LASUPERMART)




Fit motorcycle street sport dirt bike with 7/8 left grip and 1 right grip
Left (bar side) hole diameter: 7/8 (22mm);Right (throttle side) hole diameter: 1 (25mm)
Non slip design, provides smooth throttle tuning and better control.
Decorative diamond ring bar end are custom removable
High quality firm rubber gel material brings Excellent absorbent to strong vibration & provides great comfort & feel!

TMS® Streetfighter Stunt Black Head Light with Brackets For Motorcycle Enduro Naked Dual Sport Dirt Bike Street Fighter Buell MX F4i ZX6R CBR Honda KTM Kawasaki Arctric Cat Yamaha Polaris Can-am


Automotive Parts and Accessories (T-Motorsports)




Aftermarket Headlight kit for your motorcycle. Features Running light, dual light with hi/lo option and built in turn signals.
easy to install. Will mount on your motorcycle s forks with 4 rubber straps.
Mounting hardware is included. Approx. dimensions: 13.5 high and 10.5 wide. Mounting is 8 across
Made of high quality ABS plastic Main twin headlights are high and low beam 12V, 25/25W Standard bulbs.
Indicators are 12V, 10W amber bulbs.