Suzuki Motorcycles prices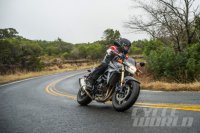 Having owned and raced several Suzuki GSX-R models over the years (dating back to the original 750 introduced to the US in 1986), I know the proper track-attack riding posture. But the older I get, the more I've come to appreciate sporting practicality where it exists. And with the new 2015 Suzuki GSX-S750, the added practicality extends beyond sit-up ergos and into the state-of-tune of this liquid-cooled 749cc inline-four.
Suzuki is quick to point out that the GSX-S engine is not a de-tuned GSX-R. Based on the 2005 GSX-R750 engine architecture, the GSX-S powerplant employs unique valve timing and lift, plus reshaped intake and exhaust ports. This, along with 8-hole fine-mist fuel injectors set at a different angle in the dual throttle bodies, results in greater low- and midrange power delivery and a claimed 11 mpg improvement in fuel efficiency. As a matter of course, such gains come at the expense of peak power output, but it's hard to argue against the benefits such a power shift brings to real world street use.
American Suzuki staged a press introduction for its new naked machine in Austin, Texas, where I enjoyed a rainy day's ride on local back roads and highways. The S smoothly pulled away from standing stops with super ease, and its abundant bottom-end torque made for short-shift serenity in the city.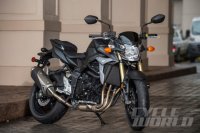 While the clutch pull is on the firm side of what we've become accustomed to in recent years, the six-speed gearbox provides the trademark light, slick and positive Gixxer action.
Without TC, Drive modes, or ABS at play, the S750 is the raw definition of controllable linear power delivery. Throttle response is crisp, enough so that a hint of drivetrain lash can be felt in lower gears if you're ham-fisted with the twist grip. But with good technique, there's superb fluidity up or down through the gearbox. Top-gear freeway cruise produces little vibration below 6, 000 rpm, at which point the GSX-S750 is showing 85 mph on its digital LCD speedometer.
While the wet conditions dictated a "bring the herd home" pace set by our tour guide, local GP hero Kevin Schwantz, it was impossible to get a good sport-riding assessment of the new GSX-S750. As for the chassis, the Gixxer S model forgoes alloy for steel, its frame a twin spar/tube hybrid design. While the inverted KYB cartridge fork and single rear shock hit a price point by only offering spring preload adjustability, the damping calibration felt sporting taught. Perhaps overly so if overall ride comfort is priority one, but I suspect I'll likely favor the firm damping rates when flogging this new Suzuki on twisty roads back home.
Overall, as a guy who came up on GSX-R supersports, I like this new S variant. At $7, 999 for Metallic Matte Black (and $150 more for the GSX-S750Z in a heritage Blue/White option), the S offers super savings, coming in $4, 300 under its GSX-R sibling.
SPECIFICATIONS
2015 Suzuki GSX-S750
PRICE
$7, 999
ENGINE
749cc DOHC inline-4
You might also like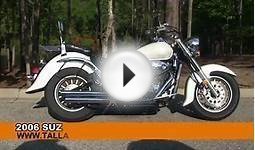 Used 2006 Suzuki Boulevard C50 Motorcycles for sale ...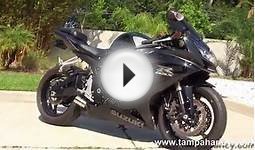 Used 2008 Suzuki GSXR 600 Motorcycles for sale in Tampa ...
Chrome Billet Oval Motorcycle Mirrors for Suzuki Intruder Volusia


Automotive Parts and Accessories (vipcycle.com)




Mirror lens is glass and provides more magnification than standard mirrors thereby enhancing your safety, by increasing your field of view
Mirror head has a unique swivel head design which allows for easy adjustment. Two screws on the back of the head allow for precise adjustment of tension, ensuring...
Chrome Billet
Dimensions: Diameter of glass mirror: 5 & 7/16ths (140mm), Length of mirror stem: 7.5 inches (190.5mm), Length of threads: 0.75 inches (19mm), Width of threads:...
100% Money Back Guarantee! No questions asked!
Vehicle Wall Decals - Blue Suzuki Motorcycle - 12 inch Removable Graphic


Home (WallMonkeys)




Removable and will not leave a mark on your walls
Re-Usable up to 100 times
Lightweight and easy take with you when you move
Affordable prices available in all sizes
Durable Photo-Tex Material beats vinyl any day
YTX9-BS High Performance - Maintenance Free - Sealed iGel Motorcycle Battery


Automotive Parts and Accessories (Chrome Battery)




Chrome Battery YTX9-BS Maintenance Free and Fully Charged with LED display.
Sealed design makes batteries leak free, which prevents corrosion.
18-Month Warranty, 60-Day Money Back Guarantee
120 CCA s with a Low Self-Discharge Rate
Free Shipping 1-3 day delivery if ordered before 3pm EST

SLuRxGm9415SyqPT Tpu Case Skin Protector For Galaxy S5 Suzuki Motorcycle With Nice Appearance


Wireless (Jerrold Sindee Flinn)




Give your phone an extra edge by using this product.
Prevents scratches, chips and fingerprints from accumulating on your phone.
This pc+tpu skin case cover is specifically designed for your phone.
Galaxy s5 accessory only .cellphone or device not included.
Accessory only, phone not included.

New Style 4448730I44096179 Cute Appearance Cover/tpu Suzuki Motorcycle Case For Ipad Mini


Wireless (Mary P. Sanders)




Smart and modern design.
Color: colors
Make your phone special and fit for your ipad Mini perfectly.
Specifically designed to shelter your phone case dust, shock, scratches and bumps.
Stylish protection with full access to all ports , buttons, and cameras.