Suzuki Quad Runner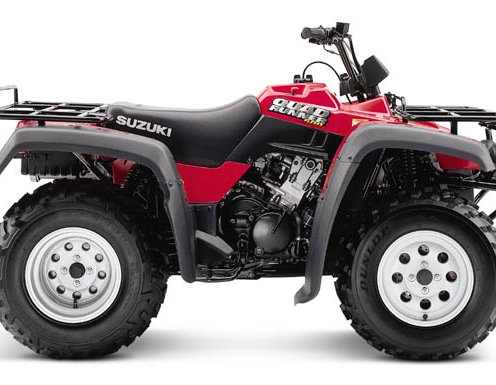 This is a discussion on 1992 Suzuki Quad Runner 4WD within the ATV General Discussion forums, part of the Suzuki ATV Discussions category; My ATV will start right up but then it will shut down when I hit the throttle. I recently installed a new carburetor and clean ...
1992 Suzuki Quad Runner 4WD
My ATV will start right up but then it will shut down when I hit the throttle. I recently installed a new carburetor and clean out the gas tank. Any suggestions?
Suzuki ATV Junkie!

Pull the plug and see what it looks like right after it shuts down. Completely dry means that it probably is not getting enough gas. Should be able to play with the choke and keep it running, but it will run like crap until you fix the real problem.

Wet means it is flooding out.

My guess is the main jet or the needle.

The clue here is "new carb" and "cleaned out the gas tank."

When you clean out a gas tank, there is often some debris that didn't come out or got dislodged as you were putting the tank back on.

Another possibility is a kinked fuel line. Only lets a little bit of gas through, enough to idle, but as soon as you need more it starves the engine.
Suzuki ATVer

Thanks, I also replaced the spark plug and the air filter. I will look at the spark plug again.
I check the spark plu and it looked fine. I also changed the air filter. HELP, any other suggestions!!
Super Moderator

Whatever you do don't buy a new carb, unless you like to get taken to he cleaners or spend a lot of cash. A new carb can run your anywhere from $300 to $500 new. What i recommend you do is take the carb out and give it a good thorough cleaning. If you want you can try this method which a lot of members say works great:
( Home brewed carb cleaning. ) After you've done that buy yourself a carb kit and install it in your carb. Also make sure the float in the carb is set to spec as well.

__________________
2000 Suzuki King Quad 300 4x4
K&N Air Filter
2300 lbs Superwinch
Kenda Bear Claws (Rear 25X10-12) - (Front 24X9-11)
Differential Lock Mod
13, 000 + km/s
Also, Carb rebuild kit is $15.95 US on DennisKirk.com.
I also purchased and installed a new Mikuni ($300+) carburetor and I am still having problems. This ATV is killing me $$$$$$$
Ah, got lost in the conversation...

You need to figure out if it is getting too much fuel or not enough. Typically if it idles fine and then dies when you give it throttle it is not getting enough.
Thanks for all of the feedback. When the carb was replaced the ATV worked fine but the problem(s) just recently started. Does anyone know what the float spec should be for a 1992 Suzuki Quad Runner 4WD - 1992 LT-4WD? Any other suggestions would be appreciated. This ATV is making my hair fall out!!!
You might also like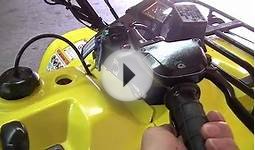 SUZUKI EIGER QUAD RUNNER LTA400 st:10677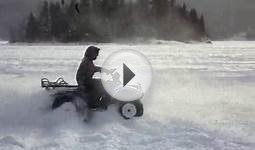 suzuki quad runner 300 4x4 1991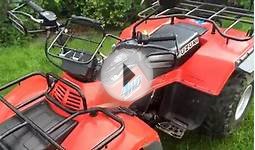 1987 Suzuki Quadrunner LT4WD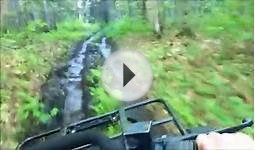 Suzuki QuadRunner 250 in the mud
IGNITION KEY SWITCH SUZUKI LT230E QUAD RUNNER 230 LT-230E LT 230E 1987-1993 KEW SWICTH


Automotive Parts and Accessories (Caltric)




Free domestic shipping
4 WIRES WITH CONNECTOR & 1 MALE BULLET END TWO KEYS INCLUDED
Suzuki LT-F250 Fuel Gas Petcock Quad Runner Quadrunner 44300-05G01 New OEM


Automotive Parts and Accessories (Suzuki)




New Suzuki Fuel Petcock Part Number: 44300-05G01
Only Fits Specific Models Listed
Fits: Suzuki LT-F250 K2(2002) - K7(2007)
Rear Brake Pads BikeMaster Suzuki LT230E Quad Runner 1987 1988 1989 1990


Automotive Parts and Accessories (Boss Bearing)




BikeMaster Rear Brake Pads 96-1239
Model Number: S303
Kit Contains: (1) Set of Rear Brake Pads
LT230E Quad Runner
1987-1993

Scott Black Radial Atv Handlebar Hand Grips and Free Sticker Fits Honda Atc110 Atc125 Atc185 Atc200 Atc250 Atc300 Atc350 Trx200 Trx250 Trx300 Trx350 Trx400 Trx450 Trx500 Trx550 Trx600 Rancher Foreman Trx700 Kawasaki Bayou Latkota Prairie Brute Force V Force 350 650 700 750 Klf110 Klt110 Klf220 Klt200 Kxt250 Kxf250 Kef300 Klf300 Kvf300 Kvf350 Kfx400 Klf400 Kvf400 Kxf450 Kfx650 Kvf650 Kfx700 Kvf700 Kvf750 Suzuki Eiger Quad Runner Master Racer Lt80 Lt125 Lt160 Lt185 Lt230 Lt250 Lt250r Ltz400 Ltr450 Lt500 Ltf300 Lta400 Lta750 Lta400 Ltf400 Ltf500 Yamaha Raptor Kodiak Wolverine Banshee Blaster Grizzly Timberwolf Beartracke Warrior Bruin Big Bear 80 128 90 100 200 250 300 350 400 500 600 660 700


Automotive Parts and Accessories (Scott)




The Radial Full Waffle ATV grip is a basic full waffle grip designed specifically for use on ATV s.

Carburetor Carb Rebuild Repair Kit Suzuki LTF 160 Quad Runner 1991-00 ATV 03-208


Automotive Parts and Accessories (Aftermarket)




Carburetor Carb Rebuild Repair Kit Suzuki LTF 160 Quad Runner 1991-2
Carburetor Carb Rebuild Repair Kit Suzuki LT 160E Quad Runner 1989-1992