Yamaha Kids Four Wheeler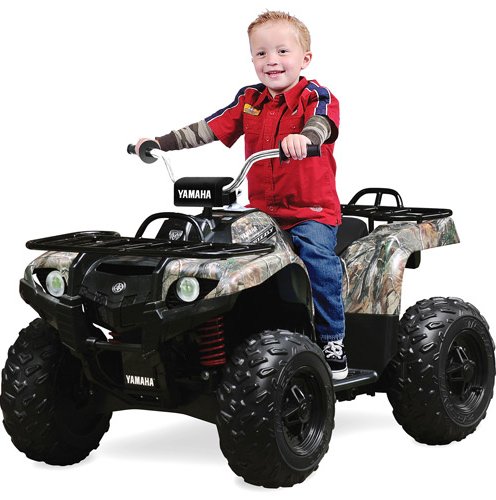 The Yamaha kids four wheeler lineup includes the Raptor 90, a sleek, sporty atv that's been around for quite some time, and utility model, the Grizzly 125. Both of these models have been copied by Chinese four wheelers. Both offer plenty of fun for the youth riders. The Raptor ATV lineup, with the sporty design is typically a favorite among many atv enthusiasts. The Grizzly has the classic utility look, and it's a little bigger, so the teenager can still ride in comfort. The Grizzly will run you about $3, 500 new, while the Raptor will command about $2, 800. Both will have a good resale value. Both are very nice kids four wheelers.
Honda:
The TRX90X will run you about $3, 000, but the quality and reliability are typically considered the best in the class of the kids four wheelers. The body style is pretty sleek and sporty, making it popular with many youth atv riders. The price, while the highest of the major brands, is more reasonable when you consider resale value. Typically, Honda atv's have great resale value. Kids four wheelers like this one will likely last you many years, going through many children. These are a big step up from cheap Honda clones.
Suzuki:
While no longer offering a 50cc atv, the QuadSport Z90 is still available. The classic Suzuki design has remained fairly consistent over the years. This is not a knock, the look of the atv is really cool. Best of all is the price. At about $2, 500 new, this Suzuki kids four wheeler is among the best values from the major brands. These are nice youth atv's made by a major manufacturer, not a knockoff company.
110cc Four Wheelers 6" Tires Atvs, Red
Amazon Price: $800.00 $499.00 Buy Now
Polaris:
Polaris offers several kids four wheeler options. The Outlaw models, available in 50cc and 90cc sizes, and the Sportsman 90 are all part of the extensive youth atv lineup from Polaris. The Outlaw 50 has a cool, sporty look, and will run you just under $2, 000 new. The 90cc Outlaw will set you back about $2, 500, the same price as the utility style Sportsman 90. Both seem to offer good value for a youth atv. The price is reasonable on these kids four wheelers, making them worth investigating. The Sportsman mirrors the big models, for the youth that want to be just like dad.
Arctic Cat:
The 90, a nice utility style kids four wheeler, complete with racks, and the sporty 90DVX are both quite popular. You'll also find a 150 utility atv, making it a great choice for the teenager that likes to ride. All are available in that nice, deep Arctic Cat red color. These youth quads offer a good resale value, and nice looks, making them popular with virtually all youth atv enthusiasts. These are among the nicer kids four wheelers on the market.
You might also like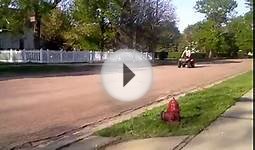 Wheelies With YAMAHA GRIZZLY Four Wheeler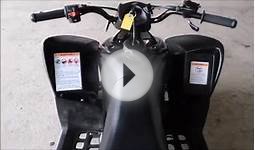 Used Honda 90 Kids ATV / Four Wheeler For Sale ...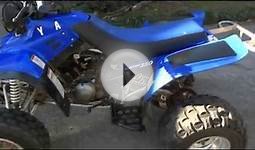 **For Sale** Yamaha four wheeler electric start 350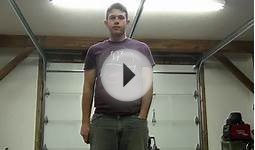 2000 Yamaha Blaster Blaster four wheeler manual 200cc 2x4 ...
12V Battery Charger for MegaTredz Kids Riding Toy Yamaha Raptor 660 Disney FJ Cruiser Suzuki 450 Yamaha Grizzly Megatrendz Motiontrendz Pure Power Adapters®
Toy (Pure Power Adapters)
Replacement aftermarket charger for the mega tredz riding toys listed below.
Very easy to use. Simply connect red clip to red wire on battery & black to black wire
works with the following toys ONLY! Yamaha Raptor 660 & GrizzlyDisney FJ CruiserSuzuki 450 Four Wheeler
Sold Exclusive By Seller Valerie Mckenzie. Pure Power Branded ®
This charger is for Mega Tredz Motion Tredz Toys ONLY!
Yamaha Raptor 700R Boys' ATV 12-Volt Battery-Powered Ride-On


Sports (Yamaha)




Drives on multiple surfaces ~ Speeds: Two speeds plus reverse ~ Maximum Speed: 5 mph
Durable construction with steering wheel column ~ Yamaha Raptor 700R boys ATV ride-on boasts authentic Raptor design ~ Raptor sound controls
Signature race graphics Wheels: Motion Trendz tires for extra traction ~ Requires 12-volt battery and charger (included)
Battery requires 14 hours to recharge completely ~ Battery delivers 1 to 3 hours of continuous use per charge ~ Dimensions: 44 x 24 x 29
Maximum weight capacity: 130 lbs. ~ Adult assembly required ~ Takes approximately 20 minutes to assemble
TaoTao 110cc B1 Kids ATV - ASSEMBLED


Toy (TaoTao)




Pleas contact seller for color choice
Engine Type: 110CC, Air cooled, 4-stroke, 1-cylinder, automatic, Start Type: Electric start, Transmission: Chain Drive
Remote Kill switch, Speed Limier, Front Hand Brake: Drum, Rear Foot Brake: Hydraulic Disc, Tire Front: 14x8-6, Tire Rear: 14x8-6
Overall Size(inch): 49.2x29.5x35.4, G.W.(lbs): 225, N.W.(lbs): 205, Seat Height(inch): 25.6, Ground Clearance(inch): 4.33

Fisher-Price Power Wheels Kawasaki Brute Force Camouflage


Toy (Fisher-Price Power Wheels)




Realistic ATV styling
Includes heavy duty on-board shovel
2,5 and 5 mph (4 km/h and 8 km/h) max. forward; 2,5 mph (4 km/h) max. reverse
Drives on hard surfaces, wet grass and rough terrain
Includes 12-volt battery and charger

Promax Starter Motor For 50 cc 70cc 90 cc 110 cc 125cc ATVs Dirt Bikes Go Karts Quad 4 Wheelers Pit bike Dune Buggy Sandrail Roketa SSR Taotao


Automotive Parts and Accessories (MAXPRO)




Please identify Promax Starter Motor. Top Quality Guaranteed.
May be interchangeable with many of the Honda, Yamaha, Bombardier, Kawasaki, Polaris, Kazuma, Redcat and Suzuki Kids Models from 50cc to 110cc. Please check pictures...
Bolt Hole Spacing: 2.70
Offers long lasting durability ; Competitive price in the market. The price is about 50% of that of similar products.